BEACH FRONT VILLA
---
We have the largest beachfront on Mahoe Bay.
This magnificent beachfront villa right on the white sands of idyllic Mahoe Beach is the ultimate – four equal, air-conditioned bedroom/bath suites, all with ocean views and all opening directly onto a natural stone terrace set with a 36-foot sparkling pool and a jacuzzi for 8.
A wide shaded verandah dotted with comfortable lounging furniture flanks the expansive stone pool terrace. The spacious Great Room with cathedral ceiling encompasses a fully-equipped kitchen with all conveniences and a great breakfast bar; this central room is furnished with eclectic easy-living wicker furnishings grouped for relaxing conversations and reading.
Tropical gardens with brilliant flowers edge Beach Dreams, and it's only a few steps to the soft white sands of Mahoe Beach with its crystal-clear waters and live reefs for snorkeling.
You'll love this large and perfectly-situated beach home – on its own half acre, offering 160 feet of white-sand beachfront and superb swimming and snorkeling right in your front yard!

ACCOMODATIONS
---
Our bedroom suites can accommodate up to 11 guests comfortably.
You'll love this large and perfectly-situated beach home – on its own 1/2 acre, offering 160 feet of perfect beachfront and superb swimming and snorkeling right in your front yard. Every bedroom is a master bedroom (private bathroom) with double ocean views, and all are air-conditioned. Every household comfort is available, including a huge family and dining room, professional kitchen, TV/VCR/Stereo, extensive movie and book library, high-speed Internet DSL access (do you really want to bring work though?) and Satellite TV with HBO and Showtime. Spacious bedroom suites accommodate extra guests. Kitchen and entertainment area were fully renovated in 2010.
Outside, guests enjoy the large 36′ freshwater pool, the 8 person in-ground jacuzzi, large sun deck and gas grill. Throw on your mask and flippers, then walk a mere 20 yards to the white sand beach and pristine waters of the Caribbean where the bay's two majestic, unspoiled reefs provide the island's best snorkeling and protect the bay to create some of the calmest, swimming waters in the Caribbean.
POOL BY THE BEACH
---
Beach Dreams not only provides one of the largest fresh water pools on the island, but also has Mahoe Bay's only in-ground jacuzzi that fits up to 8 adults.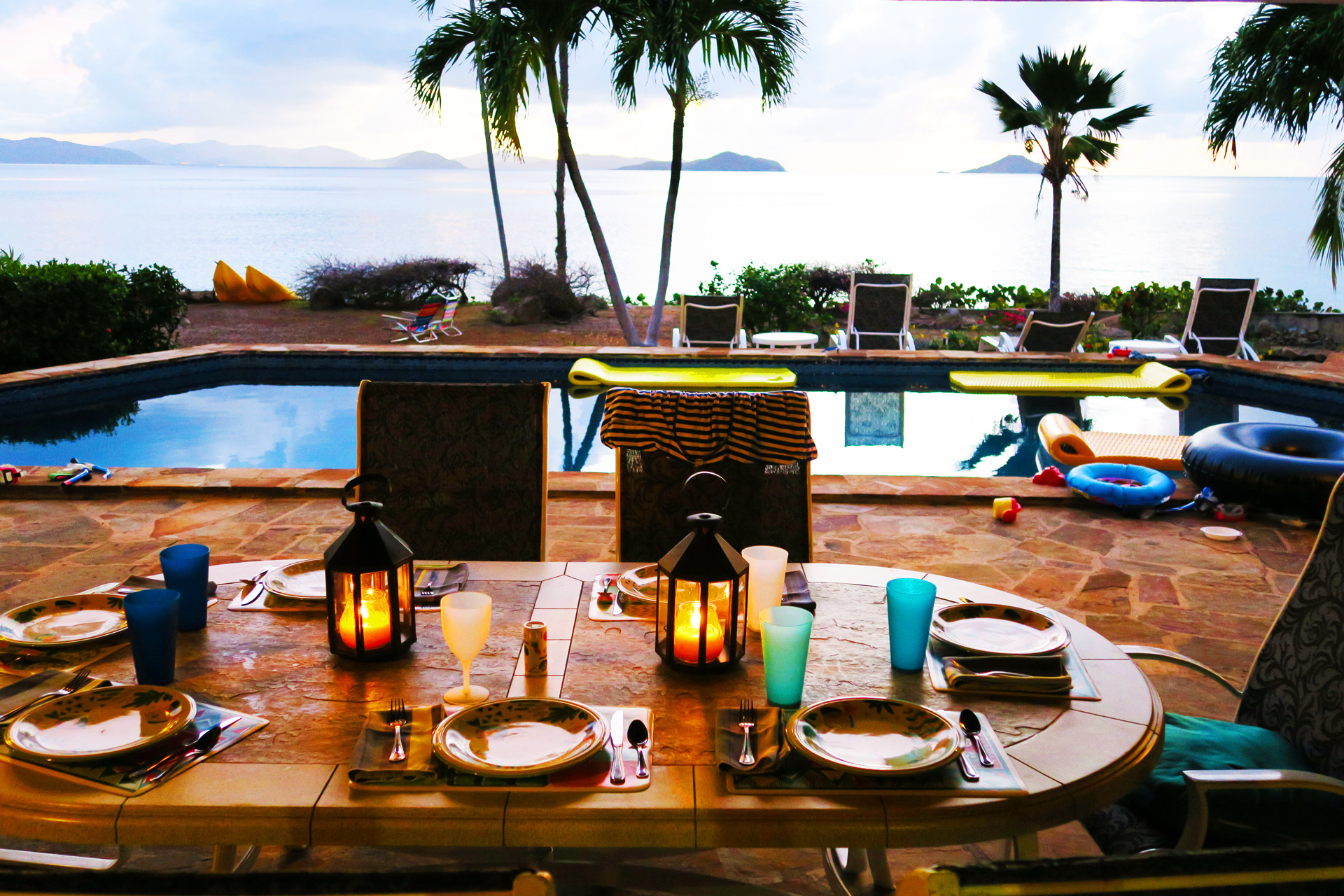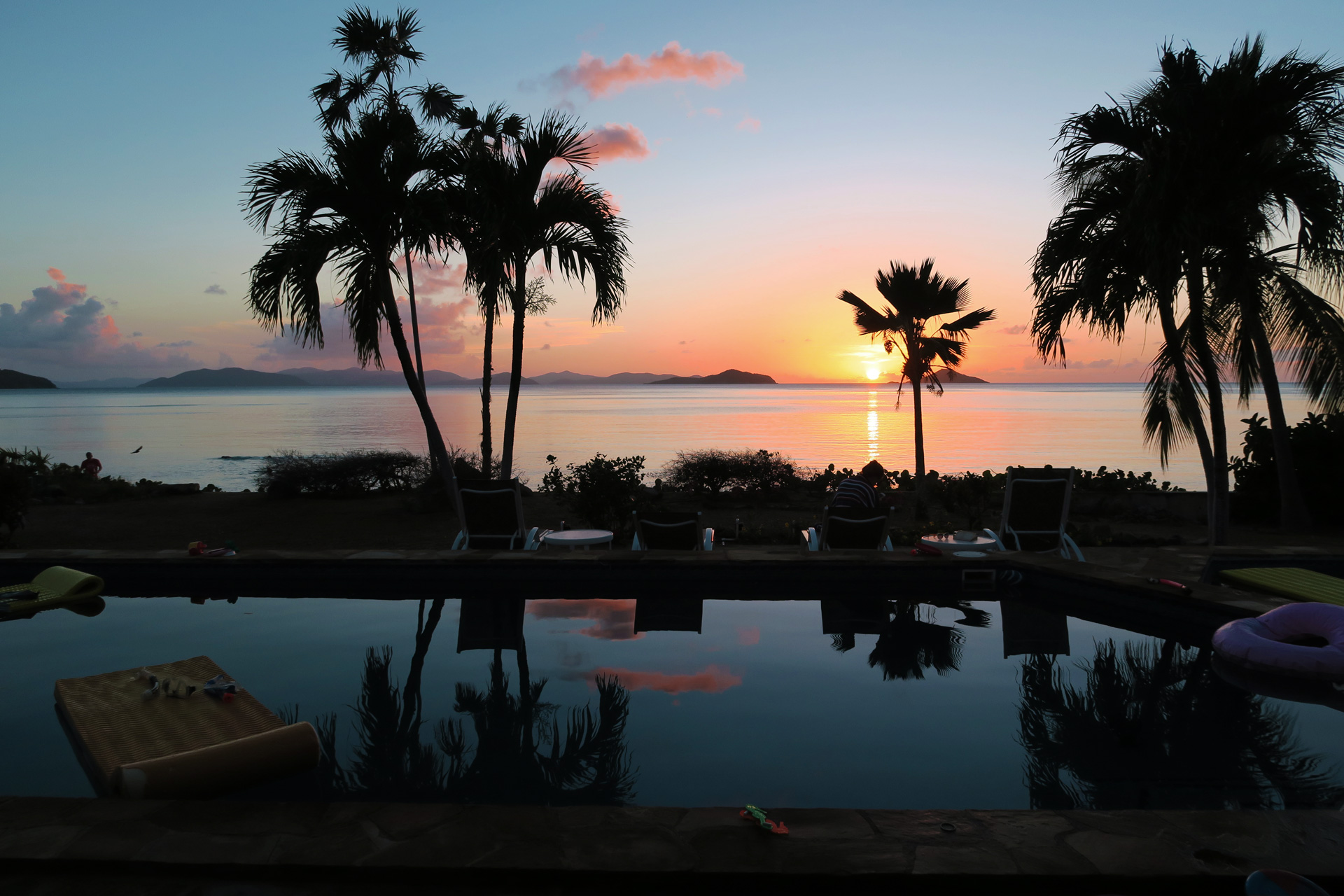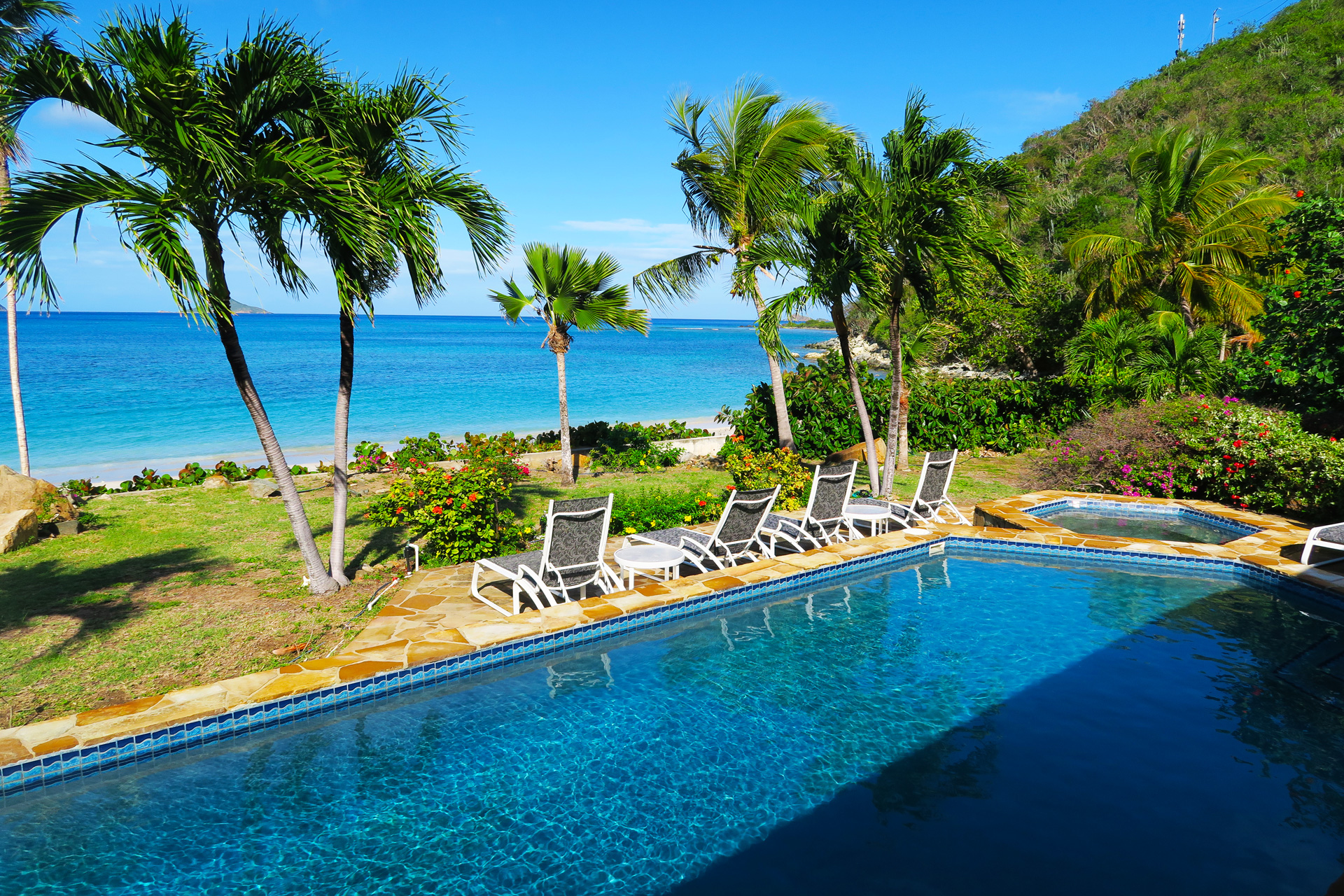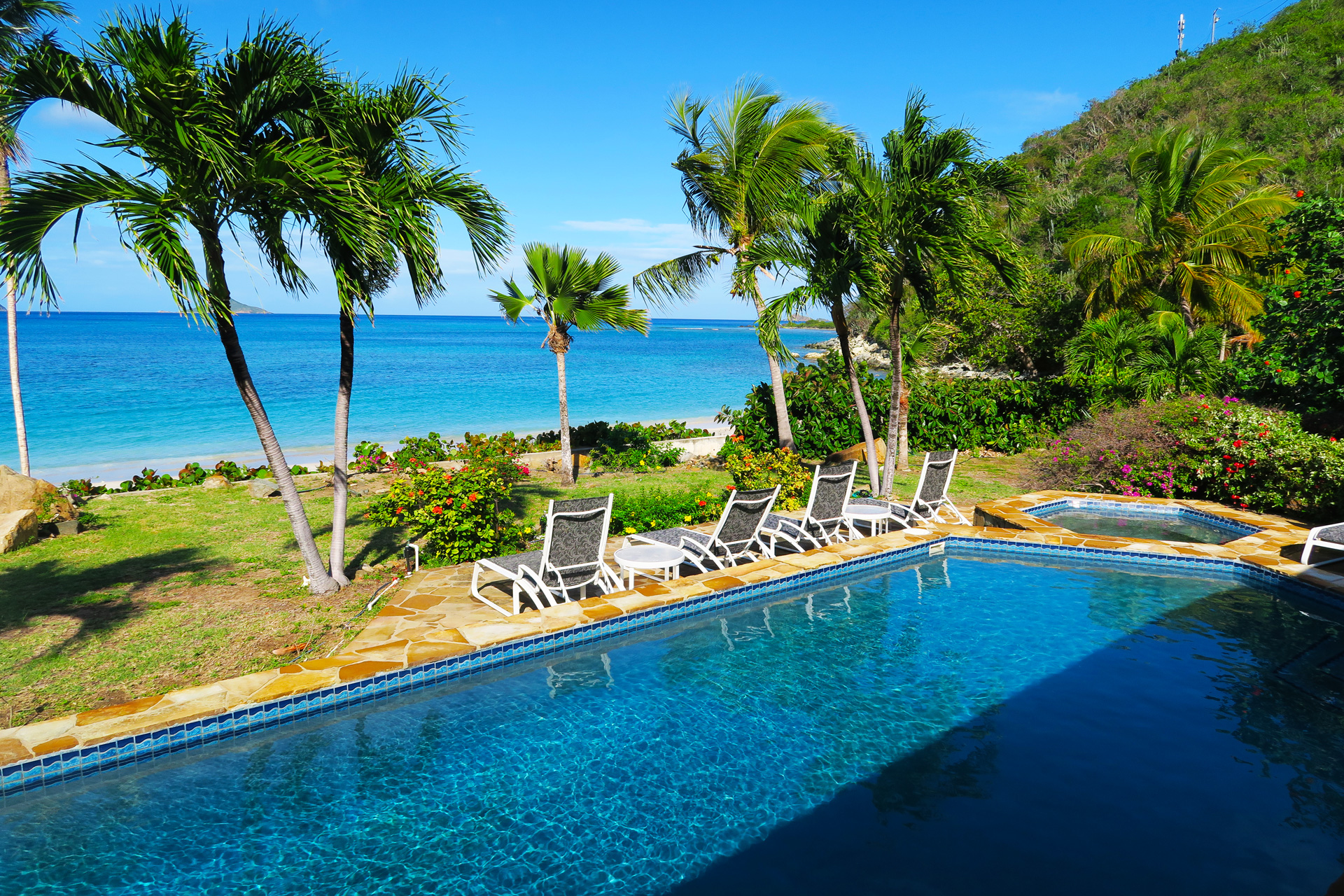 TESTIMONIALS
---
What everyone is saying about Beach Dreams
A year later, and we still find Beach Dreams an escape unrivaled. We had another wonderful week of sun, adventure, and above all else, relaxation. We're grateful to the Straus family for making our beach dreams a reality. Until next year - we'll be back, mon!
Beach Dreams has been such a dream since we choose your home for our annual Caribbean vacation early this year. After a wonderful week in the mountains of Tortola, we arrived to the serenity of your magnificent beachfront home. We enjoyed our stay on this beautiful and friendly island. Excursions over the mountain for tennis at Leverick Bay. A rainy day trip to the "Bitter End" (not intended that way!!) A trip to the Baths (for some - their third.) Our "celebration dinner" at Little Dix. But mostly - relaxing times and belly laughs on the beach and at the pool. Pink sunrise and silver sunsets, fish jumping and pelicans fishing - long walks on the beach and hilarious discussions about the eclectic and whimsical décor in the north and south bedrooms (scary by candlelight when the power went out!) Oh, what a "beach dream!"
Absolutely fabulous! When we decided to meet our friends in Virgin Gorda for vacation, we had no idea we'd be living in New Delhi, India. Several times on the plane traveling over, we questioned the wisdom of our decision and our sanity. Despite delayed departures, missed connections, and re-routing, we would do it again in a heartbeat. Truly a piece of paradise. Thank you so much for a wonderful vacation!"
What a wonderful place to spend a vacation! We came, we saw, and didn't want to leave! We are 4 couples and Beach Dreams fit us perfectly! We spent a wonderful day on the "Spirit of Anagada" and sailed to Anagada for lobster and snorkeling! 3 excellent meals were prepared here by 2 of our chefs and the rest of the time, we enjoyed meals prepared by others! Namely: Little Dix on Monday night, Chez Bamboo, Olde Yard Inn, Bitter End for buffet lunch. A must is the "mine shaft" - beautiful sunsets! Also, a must experience is the "Baths," a fun time! But nothing can beat the shear laziness we all experiences laying by the pool, enjoying the patio and only a short distance to the beach. The waves rolling in, the sun, the moon, and yes, a couple of quick showers from above to rinse away the dust. Everyone on the island was so pleasant and friendly! To all who follows us, may your stay be as pleasant and wonderful as ours!